Are you getting your taxes' worth of Constitutional Administration, Justice and Representation from DC?
Among other things since becoming president, Barack Obama has:
Is Obama really the 'lesser of two evils'?
Could John McCain or Mitt Romney have gotten away with what President Barack Obama is doing?
Where Democrats once feverishly denounced the actions of George W. Bush, they are now eerily silent when their own candidate behaves in much the same way as his predecessor (read entire article).
News after Obama was elected to a second term
- listed (roughly) chronologically, most recent first: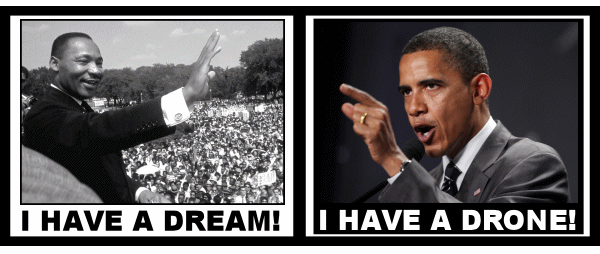 Obama administration asks Supreme Court to

allow warrantless cellphone searches

(READ).
White House knew

Glenn Greenwald's partner

David Miranda would be detained (READ).
Obama refuses to cut off military aid to

Egypt

in spite of brutal crackdown on protesters (READ).

Obama Appoints Documented 'Liar' to Convene NSA Review Board

-- Investigation established by James Clapper is part of president's so-called transparency reforms (READ).

Obama's 'Tonight Show' Domestic Spying Comments

Contradicted By New York Times Story (READ).
Obama toasts

George HW Bush

: 'We are surely a kinder and gentler nation because of you' (READ).
The case against

Edward Snowden

is the seventh under President Barack Obama in which a government official has been criminally charged with leaking classified information to the media. Under all previous presidents, just three such cases have been brought. (READ)
Obama administration implementing a crackdown called the

Insider Threat Program

. Millions of federal employees must watch for "high-risk persons or behaviors" among co-workers and could face penalties, including criminal charges, for failing to report them. Leaks to the media are equated with espionage. (READ).
The CIA has been operating a secret

drone base in Saudi Arabia

for the past two years (READ).
"Obama is running the

biggest terrorist operation that exists

, maybe in history" - Noam Chomsky

Edward Snowden:

Obama expanded

'abusive' security programs (READ).
In justifying his actions in

Syria

, Obama said, "[T]here are folks who say, you know, 'We are so scarred from Iraq. We should have learned our lesson. We should not have anything to do with it.' Well, I reject that view as well." (READ)
In his 2009 inaugural address, Obama claimed that "we reject as false the choice between our safety and our ideals." Now,in

defending NSA spying

, Obama says, "You can't have 100 percent security and also then have 100 percent privacy. … We're going to have to make some choices as a society." (READ)
Obama decides to arm rebels in

Syria

, in spite of it being against U.S. law to arm designated terrorist organizations. Obama's justification: The arms sent by the U.S. won't get into the hands of the al-Qaeda fighters amongst the rebels (READ)
Obama defends

PRISM

sweeping surveillance efforts (READ).
Obama's NSA collecting Verizon customer phone records - under the Obama administration the communication records of millions of US citizens are being collected indiscriminately and in bulk, regardless of whether they are suspected of any wrongdoing (READ).
President Obama uses a sledgehammer against dissent - From Jeremy Hammond to Bradley Manning and the AP, Obama's 'assault on journalism' is a threat to our democracy (READ).
Obama

admits the U.S. kills innocent civilians

: "it is a hard fact that U.S. strikes have resulted in civilian casualties" (READ).
The United States has formally said for the first time that it killed Yemeni-American cleric

Anwar al-Awlaki and three other US citizens

in anti-terror strikes abroad (READ).
Obama administration secretly obtains trove of

Associated Press phone records

in "unprecedented intrusion" (READ).
Cornel West: Obama 'Is a

War Criminal

' (READ).
Four Obama policies that help keep

Gitmo

open (READ).
Obama's calls

George W. Bush

a "good man" at Bush library dedication (READ).
The first of 500 Marines have begun deploying to

Spain

as part of a new rapid reaction force to respond to threats against U.S. citizens, government personnel or installations in Africa (READ).

It's Official: A Democratic President

Proposes to Cut Social Security

(READ).
While Urging Gun Laws at Home,

Obama Joins NRA

to Weaken U.N. Arms Trade Treaty (READ).
Signed the

Monsanto Protection Act into law.
Obama Admin: GPS Tracking Without Warrants 'Necessary' - Insists

Tracking Americans' Every Movement Has 'Minimal' Privacy Impact

(

READ

).

Obama inflames

anti-Iran hysteria

by speculatively claiming "Right now, we think it would take over a year or so for Iran to actually develop a nuclear weapon, but obviously we don't want to cut it too close"

(

READ

).

Obama administration to let

spy agencies

scour Americans' finances

(

READ

).
News prior to Obama being elected to a second term
US Resumes Arms Sales to

Bahrain

. Less than three months after including Bahrain on a list of human rights offenders requiring the United Nations' attention, the Obama administration seems to have changed its mind (read).
Obama silent as U.S. murders

Troy Davis

(read).
Peace Prize-Winner Obama Savages

Somalia

(read).
U.S. assembling

secret drone bases

in Africa, Arabian Peninsula, officials say (read).
"Obama cozies up to

Uzbekistan

dictator" - lobbies congress to sell more military equipment to one of the world's most repressive leaders (read).
U.S. to build new massive prison in

Bagram

, Afghanistan (read).
New American Ally in

Somalia

: 'Butcher' Warlord (read

). (Also check out

Jeremy Scahill's

extensive piece on U.S. history in Somalia).

The United States reserves the right to

pursue terrorists unilaterally in other countries

, White House counterterrorism adviser John Brennan said in a speech at Harvard Law School (read).
The Obama administration has significantly increased the frequency of drone strikes and other air attacks against the al-Qaeda affiliate in

Yemen

in recent months amid rising concern about political collapse there (read).
Obama Pushes

NAFTA

Style Trade Policy Despite 2008 Promise (watch).
Obama said that if the

Palestinians

try to achieve statehood in the UN Security Council, the US will oppose the proposal (read).
Obama abandoned a contentious new

air pollution rule

, buoying business interests that had lobbied heavily against it, angering environmentalists and rejecting the advice of his top environmental regulators (

read

).

Related: Obama asked the U.S. Environmental Protection Agency to withdraw a plan to limit smog pollution that was projected to prevent as many as 12,000 premature deaths from heart and lung complications (

read

).

US kills 30 in airstrikes on

Yemen

(

read

).
Jeremy Scahill: What's happening in

Libya

is essentially a "NATO enforced regime change" and that President Obama is "implementing the Bush domino agenda in the Middle East" (

watch

).
Obama Goes All Out For

Dirty Banker Deal

(

read

).

A secret war in 120 countries

: Somewhere on this planet an American commando is carrying out a mission. Now, say that 70 times and you're done ... for the day. (read).
Progressives Complain Obama's Debt Deal 'Trades People's Livelihoods for the Votes of a Few Unappeasable Right-Wing Radicals' (read).
Rep. Luis Gutierrez Arrested Outside White House Protesting Record Deportations Under Obama's Watch (read).

Obama exploits the tragedy in Norway


"It's a reminder that the entire international community has a stake in preventing this kind of terror from occurring," Obama said prior to learning the identity of the assailant, clearly trying to justify his military strikes in 6 Muslim nations. No doubt Obama was later stunned, if not disappointed, that the person responsible for the killings in Norway was a non-Arab Christian, and not a 'Muslim terrorist'.
Obama's escalating war in

Yemen

-

As its government teeters, the impoverished and chaotic Gulf nation is the focus of a U.S. bombing campaign

(

read

)

.

Obama's

approval ratings

across the Arab World are 10% or less, according to a Zogby study of about 4,000 people

(

read

)

.

CIA Exhales: 99 Out of 101

Torture

Cases Dropped

(

read

)

.

U.S. millions fund world's newest army,

South Sudan

, despite worries of its human rights abuses, including killings, most recently in April when hundreds of civilians were killed or wounded by the U.S. ally

(

read

)

.

The Obama administration is expanding its drone war to

Somalia

, which makes six countries where the United States is using drones to conduct lethal attacks: Somalia, Afghanistan, Pakistan, Libya, Iraq and Yemen (read). Also, the US is supplying drone aircrafts to

Uganda

and

Burundi

to help them fight in Somalia

(

read

).

Obama Admin Warns of "Fines and Incarceration" if U.S. Citizens Set Sail with

Gaza

Aid Flotilla (read).

"Yet tonight, we take comfort in knowing that the tide of war is receding,"

Obama trumpeted in his speech announcing his plan to withdraw some U.S. troops in Afghanistan (read).

(Given that George W. Bush had about half as many troops in Afghanistan as Obama will after the withdrawals, this claim is disingenuous. But what takes Obama's assertion to the level of Orwellian, is that he makes this claim while he has started new wars in Libya and Yemen, has escalated drone strikes in Pakistan, has ramped up the U.S. proxy war in Somalia, and has begun funding the new army in South Sudan.)

Just prior to Obama's speech on withdrawing some troops from

Afghanistan

, the U.S. Army Corps of Engineers awarded a $14.2 million contract to a Turkish company to construct an eight-building barracks complex for 12,000 troops at Bagram Air Field. Completion date is scheduled for fall of 2013 (read).

Former CIA Director Hayden: Obama follows in Bush's footsteps on War Powers (read) in

Libya

. In a campaign marked by stinging criticism of President George W. Bush's alleged executive excess, then-candidate Obama wrote: "The President does not have power under the Constitution to unilaterally authorize a military attack in a situation that does not involve stopping an actual or imminent threat to the nation." Yet Obama is now claiming authority to bomb

Libya

.
Obama overruled 2 top lawyers on War Power in

Libya

(read)

.

Dennis Kucinich, Ron Paul and eight other congress members file lawsuit against Obama for taking military action in

Libya

without first seeking congressional approval, an apparent violation of the 1973 War Powers Resolution (read).
Noam Chomsky: "Both Bush and Obama are terrified of the

Arab spring

. And there is a very sensible reason for that. They don't want democracies in the Arab world. If Arab public opinion had any influence on policy, the US and Britain would be tossed out of the Middle East. That's why they are terrified of democracies in the region" (read).

Whistleblowers

Suffer More than Ever Under Obama (read).

Obama's support of the repressive monarchy of

Bahrain

: The Obama administration approved $200M in military sales to

Bahrain

in run-up to violent crackdown

(read).

Bahrain crown prince meets with Obama in DC - Officials reaffirm the strong US commitment to Bahrain

(read).

Chicago Tribune editorial writer: Obama and the pursuit of

endless war

- starting new fights and prolonging the old ones (read).
FBI to Expand

Domestic Surveillance

Powers as Details Emerge of Its Spy Campaign Targeting Activists. The F.B.I. is giving its agents new leeway to infiltrate organizations, search household trash, use surveillance teams and search databases in domestic investigations. FBI agents will now be able investigate people and organizations "proactively" without firm evidence for suspecting criminal or terrorist activity (watch/read).

As chaos engulfs

Yemen

, the U.S. is diabolically intensifying a secret campaign of airstrikes, according to the New York Times

.

Report: Over 2,600

Activists Arrested

in US Protests since Obama took office (read).

In 2007, then-Senator Obama said: "If American workers are being denied their right to organize and collectively bargain when I'm in the White House, I will put on a comfortable pair of shoes myself, I will walk on that picket line with you as President of the United States of America. Because workers deserve to know that somebody is standing in their corner."... In 2011,

President Obama did not find his shoes to join the massive protests in

Wisconsin

(read)

.

Pentagon to consider

cyber attacks

an act of war (read).
Obama signs

Patriot Act

extension into law (read).
White House: No need for congressional approval for

Libya

(read).
Obama administration praises

Israel

for its restraint after it kills 20 on the "Nakba" (read).
Obama to AIPAC, May 2011:

"So make no mistake, we will maintain Israel's qualitative military edge"

(read).












May 2011 - Obama's hypocritical speech on

the Middle East


"The United States opposes the use of violence and repression against the people of the region" claimed Obama, while simultaneously dropping bombs on the people of Iraq, Afghanistan, Pakistan, Yemen and Libya.
Read statement from ANSWER coalition Director Brian Becker (Read)
U.S. kills Bin Laden hours after NATO killed Gadhafi's son and 3 grandchildren (read).
It's moments like these that some people expected Barack Obama to act differently than George W. Bush or John McCain
After killing Bin Laden, Obama could have claimed victory and announced that the wars would come to an immediate end. Instead, he's doing what Bush or McCain would have done: Continue the wars in Afghanistan and Iraq, and the drone strikes in Pakistan and Yemen; pronounce that Bin Laden's death justifies all the wars; repeat the lie that 9/11 was the start of the war; and declare that the 'war on terror' must continue.
White House Enacts Rules Inhibiting Media From Covering

Oil Spill

(read).
Former

Honduran

President Manuel Zelaya accused the United States of being behind the 2009 coup that ousted him (read).
US Ignores Calls for End to

Gaza

Siege. The Obama administration is refusing to join international calls for a complete end to the Israeli siege of the Gaza Strip (read).
The

Pentagon's spy unit

has begun rebuilding a controversial database that was shut down three years ago after it was found to have been used to monitor US peace activists (read).
Obama Administration Keeping

Blackwater

Armed and Dangerous in Afghanistan - another $120M contract awarded (read).
With Rumored Manhunt for Wikileaks Founder and Arrest of Alleged Leaker of Video Showing Iraq Killings, Obama Admin Escalates

Crackdown on Whistleblower

s of Classified Information (read).
With a strong push from the Obama administration, the United Nations Security Council voted to impose a fourth round of sanctions on

Iran

(read).
Obama Administration Might Hold Non-Afghan Detainees at

Bagram

Indefinitely -- Administration Should Not Re-Create Gitmo, Says ACLU (read).

Obama secretly deploys US special forces to 75 countries across world

(read). The dramatic expansion in the use of special forces go far beyond the covert missions authorized by George W. Bush. Countries include Iran, Georgia, Ukraine, Bolivia, Paraguay, Ecuador, Peru, Yemen, Pakistan and the Philippines.
In the days since President Obama announced a moratorium on permits for

drilling

new offshore oil wells, at least seven new permits for various types of drilling and five environmental waivers have been granted (read).

James Carville on Obama's response to the

Gulf oil spill

: He is risking everything with 'go along with BP strategy' (read).
U.S. troops executing prisoners in

Afghanistan

: Seymour Hersh (read).
Obama gives CIA authority to expand strikes by unmanned aerial vehicles in

Pakistan

(read).
Government Exempted

BP

from Environmental Review (read).
An amendment to increase Congressional oversight of the

Federal Reserve

failed following pressure from the White House (read).
Obama approves

targeted assassination

of an American citizen (read).
Obama signs law allowing

weapons in National Parks

(read).
Obama:

Drill, Baby, Drill

. Obama to open offshore areas to oil drilling -- In June 2008, then-Sen. Obama told reporters in Jacksonville, Florida, "when I'm president, I intend to keep in place the moratorium here in Florida and around the country that prevents oil companies from drilling off Florida's coasts" (read).

Obama said offshore oil drilling is "not risky"

(read).
Obama: 30,000 more troops to

Afghanistan

by summer 2010

(will bring total to about 100,000)

(read).
US-backed

Indonesian

armed forces, who carried out a series of assassinations of civilian activists in late 2009, are slated for renewed aid by the Obama administration (read).
US-Backed

Somali

Troops Prepare Major Offensive (read).
Obama signs

Patriot Act

extension without reforms (read).
Obama unveils plans to build new

nuclear power plants

(read).
School bombing exposes Obama's secret war inside

Pakistan

(read).
Obama administration raises stakes on

Iran

by sending in ships and missiles (read).
Obama administration steps up

arms sales

to Persian Gulf allies (read)
Obama seeking $44 billion

increase in military budget

- including $5b for nuclear arsenal (read).

15 killed in US drone strike in northwest

Pakistan

(read).
Blackwater in

Pakistan

: Gates confirms (read).

U.S. Moves Missiles And Troops To

Russian Border

(read).
France accuses US of 'occupying'

Haiti

as troops flood in (read).

Obama Ordered U.S. Military Strike on

Yemen

(read).
Conservative praise for Obama's Nobel speech

. "If Bush had said these things the world would be filled with violent denunciations... when Obama says them, people purr. That is fine by me." (read).
Obama signs military bases agreement with

Colombia

(read).

Obama Seeks

PATRIOT ACT

Extensions (read).
Administration Seeks to Keep

Terror Watch-List

Data Secret --As of last Sept., the list included 1.1 million names and aliases corresponding to 400,000 individuals (read).
"[

Afghanistan

] is not a war of choice, this is a war of necessity. Those who attacked America on 9/11 are plotting to do so again. If left unchecked, the Taliban insurgency will mean an even larger safe haven from which al-Qaeda would plot to kill more Americans. So this is not only a war worth fighting. This is fundamental to the defense of our people." (read).
Obama administration asks Supreme Court to block release of

torture photos

(read).
Obama's Military Is

Spying on US Peace Groups

, by Amy Goodman (read).
The Obama administration has declined requests from U.N. human rights investigators for information on secret prisons and for private interviews with inmates at the U.S. military detention center at

Guantanamo Bay

(read).
Obama announced the nomination of Robert Hormats, a vice chairman of

Goldman Sachs

International, to a top economic position at the State Department (read).
Senior Obama Official Backs Cheney and CIA, Says

Concealment of Assassin Program

Legal (read).
Some

Guantanamo Bay

Detainees May Be Held Indefinitely (without prosecution) (read). Also, military tribunals at Gitmo resume (read).
Obama Goes to Bat for

Bush Wiretap Program

(read).
Obama Slides Further Down Bush's Hill on

Indefinite Detention

(read).
About Face: Obama to Proceed with Bush-Era

Cybersecurity Plan

(read).
Obama Administration Backs Bush White House on

Cheney

Interview (read).
Obama administration seeks to quash suit by

9/11 families

(read).
In his May, 2009

speech in Cairo

, Egypt, Obama denounced retaliation and force in discussing how Palestinians should respond to Israel. Given that Obama's government sells weapons to Israel, has escalated violence in Afghanistan and has increased the number of drone attacks in Pakistan, his request of Palestinians is void of any credibility. Obama also proudly proclaimed that US troops would be out of Iraq by 2012 (as if three more years is acceptable), and he again did not mention how many mercenaries would remain, and of course, he didn't discuss US military bases in Iraq.
Obama OK's

Mountaintop Removal

. With the election of Barack Obama, environmentalists expected to see the end of the "Appalachian apocalypse" -- their name for exposing coal deposits by blowing the tops off of whole mountains. But in recent weeks, the Obama administration has quietly decided to open the way for at least two dozen more "mountaintop removal" projects. (read).
Obama embraces Bush's

immigration policy

. In recent days, for example, the administration has announced it will expand a $1.1 billion program begun under President George W. Bush to check the immigration status of virtually all people booked into local jails over the next four years. Obama will continue a "zero-tolerance" program that charges and jails any illegal immigrant caught crossing parts of the U.S.-Mexico border. And the administration will resume construction of a $8 billion "virtual" fence of tower-mounted sensors and cameras along the border (read).
Obama pledges to keep

U.S. 'dominance'

: We will maintain Americas military dominance and keep you the finest fighting force the world has ever seen. (read).
Obama administration sides with Bush, Cheney and Rove in the case of outed CIA agent

Valerie Plame

(read).
Obama to Keep

Israel's Nuclear Secrets

(read).
Obama Endorses

Indefinite Detention

Without Trial for Some. President Obama acknowledged publicly for the first time yesterday that some detainees at Guantanamo Bay may have to be held without trial indefinitely, siding with conservative national security advocates (read).
Obama does U-turn on

Guantanamo Bay

terror trials - will restart military tribunals for a small number of Guantanamo detainees, reviving a Bush-era trial system he once assailed as flawed (read).
Little Known Military Thug Squad Still Brutalizing Prisoners at

Gitmo

Under Obama (read).

Afghan

President Hamid Karzai called on the U.S. to halt air strikes in his country (read). Unfortunately, the Obama administration rejected Karzai's demand and said that U.S. airstrikes will continue (read)
Obama renews U.S. sanctions on

Syria

(read).

Photographs of prisoner abuse

which Barack Obama is attempting to censor include images of apparent rape and sexual abuse (read).

McCain

backs Obama (read).
Obama pledges to protect

CIA torture operatives

(read).
President Obama is asking Congress for $83.4 billion in funding for the occupation of

Iraq and Afghanistan

. The request marks a complete reversal for Obama from two years ago, when he voted against war funding as a senator under former President George W. Bush (read).
Obama Administration Embraces Bush Position on

Warrantless Wiretapping

and Secrecy (read).
Replace "Afghanistan" with "Iraq" and Obama sounds like Bush . Barack Obama made an impassioned plea to Americas allies to send more troops to

Afghanistan

, warning that failure to do so would leave Europe vulnerable to more terrorist atrocities (read).
Obama quietly gave

Blackwater

$70 million in February, despite Iraq saying it doesn't want the company there (read).
President Barack Obama declared today that the United States will maintain our

military dominance

. We will have the strongest armed forces in the history of the world. And we will do whatever it takes to sustain our technological advantage and to invest in the capabilities that we need to protect our interests and to defeat and deter any conventional enemy. (read).
Obama extends sanctions against

Iran

for one year, saying it continues to pose a threat to US national security (read).
Even though Obama has repeatedly pledged to ban

congressional earmarks

, his Chief of Staff Rahm Emanuel has 16 such projects, worth about $8.5 million, in the bill the Senate is considering (read).
Suspend Military Aid to

Israel

, Amnesty Urges Obama after Detailing US Weapons Used in Gaza (read).
Obama backs Bush: No rights for

Bagram

prisoners (read).
Obama Sides With Bush: Tries to Kill

E-Mail Case

(read).
Obama Expands Missile Strikes Inside

Pakistan

(read).
Obama Lets CIA Keep Controversial

Renditions

Tool (read)
Obama lawyers set to defend

Yoo

(read).
Obama Energy Secretary Nominee:

Coal, Nuclear

an 'Important Part' of Power Mix (read).
Obama picks

Raytheon VP

as deputy defense secretary (read).
Obama attends

neo-conservative dinner

party with William Kristol, David Brooks, among others (read); but refuses to meet with Hamas or to criticize Israel for Gaza attacks (read).
"His task, will be to develop an overall strategy for America in this period, when really a New World Order can be created. Its a great opportunity it isn't't a crisis. He (Obama) has appointed an extraordinarily capable group (of advisers and staff) in both foreign and economic fields" ~

Henry Kissinger

(YouTube)
Obama Wants

Bush

Pentagon Appointees to Stay (read).

Cheney

lauds Obama's choice of national security team (read).
Obama choice of evangelical pastor to give invocation at his inauguration has

gay rights groups

angry (read).
Obama's

Pro-Nuclear

Pick for Energy Secretary Steven Chu has a keen interest in energy efficiency and solar power and other clean forms of renewable energy, Chu is a staunch advocate of nuclear power (read).
Obama's Dept. of Ag. choice Vilsac is pro-

GMO

.
Campaign Promises on Ending the War in

Iraq

Now Muted by Reality
"I said that I would remove our combat troops from Iraq in 16 months, with the understanding that it might be necessary - likely to be necessary - to maintain a residual force to provide potential training, logistical support, to protect our civilians in Iraq," Mr. Obama said this week as he introduced his national security team (read).

Barack Obama's kettle of hawks


The absence of a solid anti-war voice on Obama's national security team means that US foreign policy isn't going to change - "What does it say that, with 130 members of the House and 23 in the Senate who voted against the war, Obama chooses to hire Democrats who made the same judgment as Bush and McCain?" Neoconservative leader and former McCain campaign staffer Max Boot summed it up best. "I am gobsmacked by these appointments, most of which could just as easily have come from a President McCain," (Jeremy Scahill, 12/1/08).

Karl Rove

praises Obama's economic team - "Thanksgiving Cheer From Obama - He's assembled a first-rate economic team" (read).
"Hawks For Hillary"

The New Republic: Why Are Conservatives Praising Obama's Pick For Secretary Of State? Newt Gingrich, Iraq war architect Richard Perle (read).
Gov.

Janet Napolitano

of Arizona is reportedly set to be offered the position of Homeland Security secretary. She is a two-term governor, as well as a former US attorney and state attorney general for Arizona. She was the first governor to call for National Guard troops to secure the US-Mexico border (read).
President-elect Obama is also expected to tap billionaire Penny Pritzker to serve as Commerce secretary. Pritzker is a longtime friend of Obama's and served as his national finance chair. Pritzker was involved in running and overseeing the Illinois-based Superior Bank, which collapsed in 2001. The bank has been described as being at the forefront of turning

sub prime loans

into securities, the risky practice at the heart of the financial crisis (read).
Obama sends

Madeleine Albright

to represent him at the G20 summit. Albright is the person who, when told that a half million Iraqi children had died due to sanctions, said "I think this is a very hard choice, but the price--we think the price is worth it." (read).
Obama continued the fear-mongering that pushes this country into multiple wars when he told 60 Minutes: "I think it's important to get a national security team in place because transition periods are potentially times of vulnerability to a

terrorist attack

," (read).
Obama reportedly to keep

Robert Gates

as Secretary of Defense (read).

University of Chicago

economist Austan Goolsbee will be U.S. President-elect Barack Obama's choice to lead the White House economic team (read).
Obama wants embattled U.S. Sen.

Joseph Lieberman

to remain in the Senate Democratic caucus (read), and fellow democrats follow and allow Lieberman to keep a key chairmanship (read).
Obama vowed to shut down

Guantanamo

- this is good news, and maybe something a John McCain presidency wouldn't have done. But what is Obama going to do with those held without charge at Guantanamo? And what about torture centers at Bagram and Diego Garcia? And will he shut down the School of the Americas torture training center in Ft. Benning, Georgia? And what about the torture American prisoners face in US jails?

Chomsky

on Obama appointments
"Obama's choices to [run his economic team] were Robert Rubin and Larry Summers from the Clinton--Secretaries of Treasury under Clinton. They are among the people who are substantially responsible for the crisis. One leading economist, one of the few economists who has been right all along in predicting whats happening, Dean Baker, pointed out that selecting them is like selecting Osama Bin Laden to run the war on terror." (read or listen to the entire speech).

Obama supports

$700 billion bailout

of toxic financial institutions. (Sep '08)
As riot police were assaulting and arresting innocent activists outside the Democratic convention, Joe Biden was inside saying "Barack will put

more cops

on the street" (Aug '08)

Georgia/Russia

: Obama sides with Georgia - position similar to Bush and McCain. (Aug '08)
9/28/08 St. Pete for Peace statement on Obama following the first Presidential debate
Dear friends of peace,

The presidential debate on Friday night confirmed our previous statements about Barack Obama - he is not an antiwar candidate. St. Pete for Peace, in the strongest terms, condemns Obama's positions on Afghanistan, Pakistan, Iran, Russia, Venezuela, and Iraq, among others. Like John McCain, Obama is pro-military and pro-empire. And just like the Republican Party, the Democrats are not representing the people, as further evidenced by the Democrats who pushed at least as hard as the Republicans for the $700 billion Wall Street bailout.

Some people believe Obama is just making pro-war statements to get elected, but if that were true, how do you know he's not also being deceitful about the things he says in which you agree? And if he's saying things now just to get elected, how do you know he wouldn't say those things to get re-elected? Some say that an Obama presidency would mean that their antiwar voice has a chance of being heard. How can this be true if he's not listening to your voice now when he's trying to get your vote?

"But he's better than McCain" is the reason many give for their support of Obama. Yes, that's true. But, if somebody knocked on your door and said, "You can either give me your children, or you can give me every dollar you earn for the rest of your life" what would you say? You would say "neither" and shut the door. It's time to shut the door on the Republicans and Democrats until they start representing the people. Of course, John McCain and the Republicans are dangerous and should not be in power, but acceptance of the "lesser of two evils" philosophy is one reason we continue to be stuck with two evils.

So, what do we do? Well, if you support the Democrats and Obama, then at least demand they start representing you, or abandon the party. This is not a call to join some other party - election politics should be just one small part of participating in your country's affairs. This is a call to consciousness. What you do once every four years pales in comparison to what you do every day.

Peace
Would "take no options off the table when it comes to preventing

[Iran]

from using nuclear weapons or obtaining nuclear weapons, and that would include any threats directed at Israel or any of our allies in the region." (Apr '08)
"The truth is that my

foreign policy

is actually a return to the traditional bipartisan realistic policy of George Bush's father, of John F. Kennedy, of, in someways, Ronald Reagan." (Mar '08)
Said the 2008 violence in

Gaza

was the result of Hamas' decision to launch rocket attacks on Israeli civilians (Mar '08)
Said the US should not meet with (the democratically elected)

Hamas

leadership (Mar '08)
Would not rule out using

mercenaries

(private military companies) like Blackwater in Iraq. (Feb '08)
Said that US troops should be "relieved of the burden of policing someone else's civil war," and that

Iraqis

need "to take responsibility for their own future." (Jan '08)
Voted for Bush's 2005

energy bill

which sent billions of dollars in subsidies to oil companies. (Jun '05)
Voted to allow

credit card companies

to raise interest rates to over 30%. (Mar '05)
Two weeks after the

Iraq

war started he said, we "absolutely want to make sure that the troops have sufficient support to be able to win." (Mar '03)
"I am not opposed to all
wars
, I'm opposed to dumb wars."
(Oct '02)
http://stpeteforpeace.org/factsheets/obama.html
To join US for a better America, click here